Le Carousel
1979 - 2016
Statistics:
Manufacturer: Bradley & Kaye
All Time Maximum Capacity: 782 an hour

One of several rides added to the park in the 1970's that was manufactured by Bradley and Kaye, Le Carousel was Worlds of Fun's first carousel, and the last major addition to the Europa section of the park until 2017. Le Carousel was quite large with a 38 foot diameter and 36 animals, including 34 jumpking horses and two stationary camels, along with two stationary chariots.
Though it was easy to see Le Carousel as a standard 1970's fiberglass carousel the design of its horses and camels was far from assembly line. Bradley and Kaye, the manufacturer's of Le Carousel was founded by David Bradley, who owned a park of his own, the Beverly Center, which was home to a 1916 C.W. Parker carousel. A little background on Parker, he was one of the several prolific carousel manufacturer's in the early 20th century, but unlike Looff, PTC, or Illions, who were all based on the east coast, Parker was based out of Abilene and later, Leavenworth, Ks.. He produced mostly portable fair-style carousels, but after his move to Leavenworth, produced a much more ornate, stream-lined design. The Beverely Center had one of these later, Leavenworth creations, and Dave Bradley not only took note but made molds of the beautifully hand carved creations. He would later on use these same molds to create the fiberglass horses on both the Columbia Carousel at both Great America parks as well as Le Carousel at Worlds of Fun. End story is that though the horses on Le Carousel were fiberglass, they were fiberglass copies of a famous local carousel manufacturer, who just so happened to produce some of the finest carousel horses in the country. That's not even the whole story either though. In an interesting twist, it was Beverly Park and the very same C.W. Parker carousel that Walt Disney himself took his two daughters to when they were little, as many who know the story can attest, it was these visits that inspired Disneyland the first modern American Theme Park. It IS a small world after all!
Le Carousel would be the last addition to Europa in almost three decades. Change finally happened in 2016 when in the fall of the season, Le Carousel was removed, and in spring 2017 Falcon's Flight premiered in the same location. Le Carousel's story goes on though, it was bought by Carolyn's Pumpkin Patch in nearby Liberty, Mo. where it continues to operate to this day.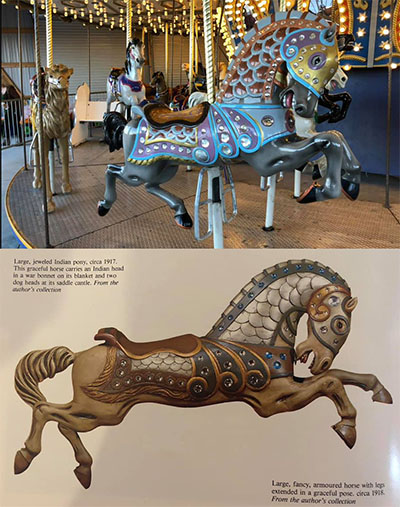 A comparison of a Le Carousel horse with an original Parker creation out of Leavenworth, Ks. They are incredibly similar. Photo from "Art of the Carousel" by Charlotte Dinger.
Relevant Links and Sources
Bradley & Kaye (Amusement Park Journal):
http://www.worldsoffun.org/bradleyandkaye.pdf
Travel Back in Time to Kiddieland, the theme park that inspired Disneyland:
https://maps.roadtrippers.com/stories/travel-back-in-time-to-kiddieland-the-theme-park-that-inspired-disneyland
YouTube Videos
Le Carousel at Carolyn's Pumpkin Patch in 2018:
Additional Photos