Worlds of Fun 2020 Current Attractions

Please be aware this page is currently under construction and only includes those attractions from 1973-1982 that in operation in the park for the 2020 season. It will continue to be updated as each attraction receives its own separate page.



Scandinavia
Fjörd Fjörlane 1982 (moved/renamed 1991)-current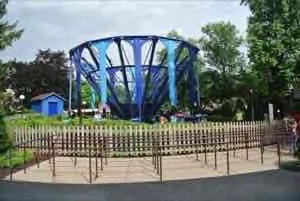 Fjörd Fjärlane is a small blue circular ride located just to the main gate. Riders board one of 14 cars that spin around a central hub and are slightly raised in the air on each rotation. Often thought to be manufactured by Huss Rides of Germany (model name: Swing Around), Fjörd Fjärlane is actually an off-brand that is incredibly similar to the Huss version. Fjörd Fjärlane started its life at Worlds of Fun in 1982 when it was added as part of the new River City section in Americana known then as the River City Rampage. With the addition of Beat Street in 1991, River City Rampage was moved to Scandinavia and renamed Fjörd Fjärlane. Guests less than 46" tall must be accompanied by an adult to ride.


Viking Voyager 1973-current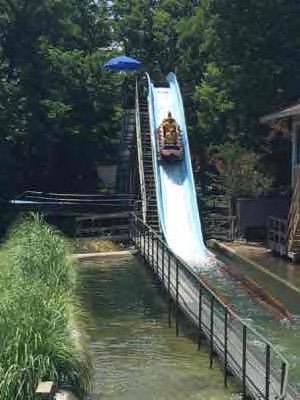 A classic family flume ride, Voyager has been thrilling riders since opening day on May 26, 1973. Riders board a Viking flume boat and take on the high seas, all ending with an over 40-foot slash down drop. Voyager was manufactured by Arrow Development of Mountainview, California. During the time period Voyager was built Arrow, flumes were incredibly popular installations and it's hard to think of a single park that opened in the 1970's that did not have an Arrow flume. In the four decades that have passed, many Arrow flumes have been removed to make way for larger, more thrilling coasters, and the classic Arrow flume becomes more rare with each passing season. Today, like in the 1970's, the Arrow flume still provides a fun, family friendly, slightly thrilling ride making it a perfect fit for a family theme park. Thankfully, the park has began to appreciate its importance as a signature classic ride and Voyager has received several major updates over the past few years including a complete update to its control system in 2016. (Prior to 2016 it was still operating on its control system from 1973). Guests must be 36" or taller to ride Voyager and those under 46" must be accompanied by an adult.


Tivoli Music Hall 1973-current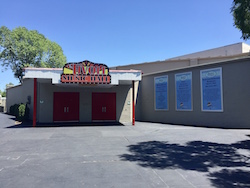 Tivoli Music Hall is currently used only in the spring and fall, and otherwise sits empty during the summer months. During the spring it is home to the park's annual Choir & Band Festivals (dating back to 1974). During the fall, it is typically home to a Haunt theater show; in the last three years, that has meant Ed Alonzo's Fun House/Magic Show. Prior to 2011, Tivoli was home to a summer musical revue show, which changed theme and productions almost every year. A complete listing of Tivoli Shows through the years will be coming soon.


Scandi Scrambler 1973 (moved/renamed 2014)-current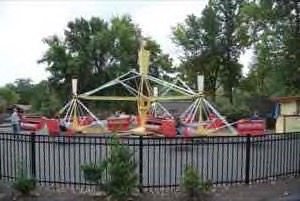 Located right next to Nordic Chaser is an original park ride, the Scandi (or Scandia) Scrambler. Scrambers, unlike Rotors, were and still are incredibly popular, and are found in almost every amusement park and traveling carnival. Scrambler is a circular ride that moves in an egg beater-like fashion. Its popularity stems from the fact that it's a little thrilling, but also fun, making it enjoyable by almost everyone. Scandi Scrambler, like all Scrambler rides, was manufactured by ELI Bridge Corporation of Jacksonville, Illinois, the same company that built the Skyliner Ferris Wheel. Also, of interest, though Scrambler is currently in its original location, that was not the case for many years. From 2007 until 2014, Scrambler was relocated to Americana, in Camp Snoopy, while its original location in Scandinavia was home to the Octopus. With the removal of Octopus in 2014, Scrambler was returned to its original site, was given a massive renovation complete with colorful light package, and renamed Scandi Scrambler. Riders must be at least 36" tall to ride, those less than 48" must be accompanied by an adult.



Africa
Zulu 1979-current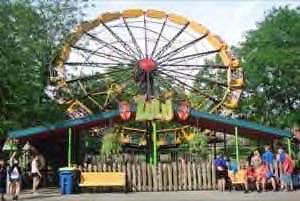 Zulu is a thrilling, spinning ride located right across from Big Jacks. Zulu is also one of the few rides that require riders be 54" to ride. Zulu starts flat to the ground, with riders seated in one of the 20 enclosed cars. As the ride begins spinning, it is hydraulically lifted into the air, with the centrifugal forces keeping riders in their seat (there are no seat belts or restraints of any kind on this ride). Zulu was manufactured by Huss Rides of Germany, and was added in 1979. Interestingly enough, Zulu's small queue house was originally used by The Safari an original, if short-lived ride, for its queue house. Guests must be 54" or taller to ride.


Floral Clock 1973-1996, 2018 - Current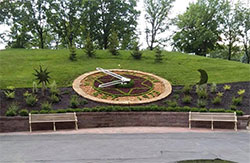 When Worlds of Fun was planned it wasn't simply intended to be a collection of roller coasters and other amusement rides, it was also designed to be a botanical show piece. One of the highlights of the park landscaping plan was the park's floral clock, located on the hill adjacent to the Moulin Rouge, it was a landscaping masterpiece, in addition to tell time. For many years the date was also updated daily, with numbers being grown using special forms, and switched out every morning by park landscapers.



Europa
Moulin Rouge 1973-current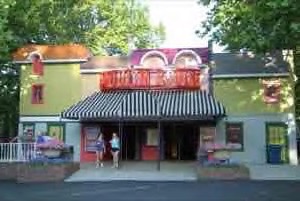 Since 2002, Moulin Rouge has been home to two separate musical revues showing in the summer months, and the Halloween-themed "Meat Cleaver High: Haunted Homecoming" running during the fall months. Moulin Rouge opened with the park in 1973 and has hosted a vast variety of other entertainment options over the years as well, including a can-can show in 1973-74; a wide variety of Delores Hadley's Marionette shows and vaudeville acts replaced the can-can show in the late 70's and early 80's and, finally, just prior to the current incarnations, "Stax of Wax" ran incredibly successfully from 1985 until 2002.


Le Taxi Tour 1973-current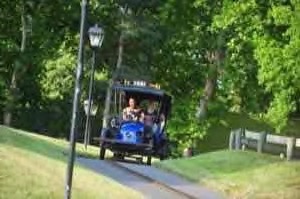 A popular family ride, with good reason, Le Taxi Tour allows guests 48" or taller to drive their own French taxi-themed car along the wooded French countryside, complete with center guide rail of course. Le Taxi Tour's four-seat cars were manufactured by Arrow Development and are still the original cars that opened with the park in 1973. Guests must be 48" or taller to drive while those under 48" must accompanied by an adult to ride.


Flying Dutchman 1973-current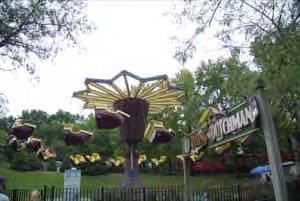 Located right next to Le Taxi Tour, Flying Dutchman is also an original ride to the park, opening in 1973. With Dutchman, guests board a two-seat dutch boat, attached via four cables to a center hub. When the ride begins, the hub rotates and lifts the boats into the air, offering a wonderful breeze and a nice view. Though a relatively mild-mannered ride, Dutchman does offer a thrill for those bothered by spinning rides. Flying Dutchman was the prototype of the Flying Dutchman-type ride manufactured by Intamin AG of Switzerland. Today, there are roughly only a half dozen installations of the Flying Dutchman ride in the United States. Guests less than 46" tall must be accompanied by an adult to ride.


Autobahn 1973 (re-named 1995)-current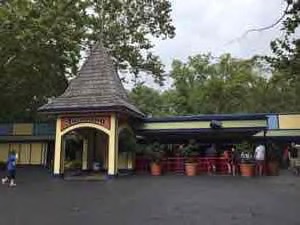 Europa is just chock full of original Worlds of Fun rides, and Autobahn is no exception. Autobahn is the park's bumper cars ride, and like all bumper cars rides is a perfect place to let out your road rage aggression. Over the years, Autobahn has been drastically changed; its course has been cut in half by the addition of storage shed/maintenance sheds on either end and the number of cars operating has been reduced along with it. Interestingly enough, Autobahn wasn't even this ride's original name, though it has never been moved. Autobahn opened in 1973 as Der Fender Bender and was only changed when Cedar Fair purchased the park in 1995. Guests must be 48" or taller to ride Autobahn.



Americana
Worlds of Fun Railroad 1973-current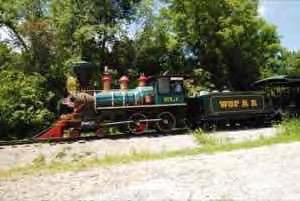 As one of the most popular family rides in the park, Worlds of Fun Railroad (WOFRR) is also an original attraction to the park, opening with it in 1973. Guests board one of four coaches and take an over one-mile tour around the park. The train has been and still is powered by a 25-ton steam locomotive named ELI. ELI was manufactured by Crown Metal Products of Pennsylvania in 1972 for Worlds of Fun specifically. Though "technically new" (in that it never operated in the age of steam) ELI is still powered 100% by steam; however, instead of burning coal or wood, ELI burns propane. As is the case with steam engines, propane is not the fuel that powers the locomotive. Instead, it is used on a catalyst to heat the water within the boiler, which creates steam, and moves the engine. Like many steam engines, WOFRR was named, in this case, ELI, when the park was being designed and built. ELI is named after a speedy Burlington Northern train route from Kansas City to Chicago that was likened to a similarly speedy Chillicothe Racehorse named ELI. Burlington Northern was an original sponsor of the WOFRR. Of interest, WOFRR riders are also spectators of The Great American Train Robbery skit at approximately the halfway point, and turn around of the train ride. The robbery show is only performed May through August and only until dusk. Guests less than 46" must be accompanied by an adult to ride.



Planet Snoopy
Snoopy vs Red Baron 1974-current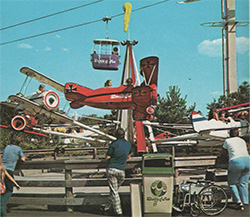 This circular airplane ride has been popular since it's opening in 1974. Children under 54" can "fly" their own plane, on this circular plane ride, complete with 8 planes, fitting two riders each. Riders can control the height of their plane. Red Baron was manufactured by Bradley & Kaye and opened in the Scandinavian section of the park in 1974, marking it as Worlds of Fun's first ride expansion after the park's opening in 1973. When Aerodrome opened in Americana in 1978, Red Baron was moved but retained the same name. When Aerodrome became Pandamonium in 1987, Red Baron was renamed to Pand-Am Airlines (a tribute to Pan Am Airlines); with Bearenstain Bear Country in 1997, it was renamed Kiddy Hawk Airlines. Finally, in 2001, with the renovation to Camp Snoopy, it became known as Red Baron once again. An inside joke among Ambassadors at the park is that during the time the area was known as Camp Snoopy the sign for Red Baron could be misread as Red Bacon, and became the ride's "nickname". Guests must be 32" or taller to ride Red Baron, and must be less than 54" tall.


Snoopy's Yacht Club 1978-current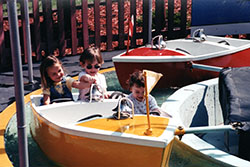 Clang, Clang, Clang, is what everyone remembers about Tot's Yachts, one of the minor additions for the 1978 season. A small, circular boat ride for children, Tot's Yachts was added to Scandinavia in 1978 replacing the Red Baron bi-plane ride that had been moved to Aerodrome the same season. It was located approximately where Fjord Fjarlene is today. Even with the addition of Pandamonium in 1987 Tot's Yachts, along with several other children's rides scattered through the park remained in its location in Scandinavia. It was finally evicted from its spot in 1991 when River City Rampage was moved from River City in Americana to Scandinavia and was re-named to Fjord Fjarlene. Tot's Yachts wouldn't reappear in the park until two years later in 1993 when it was re-introduced into Pandamonium, which is it's current location to this day. In 2001 with the introduction of Camp Snoopy's Tot's Yachts was re-named to Peanut's Yacht Club and in 2011 with the modification to Planet Snoopy the ride was once again re-named to Snoopy's Yacht Club, a name it retains to this day. Guests must be less than 54" tall to ride.


Linus Beetle Bugs 1979 (re-named/re-located 2001)-current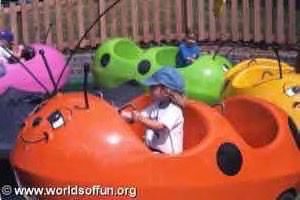 Like Turn Tyke, Beetle Bugs is a small circular car ride, in which the cars are themed to lady bugs, that rotate around a small, undulating track. Riders must be 54" or under to ride. Linus Beetle Bugs was introduced to Worlds of Fun in 1979, as Beetle Bumps, and was at that time located in the Orient section, exactly where the Coca Cola Freestyle is today (the pagoda is the same general structure). Beetle Bumps was relocated to Camp Snoopy and re-named in 2001. Riders must be under 54" to ride.



The Orient
Bamboozler 1977 (re-named/relocated 1986)-current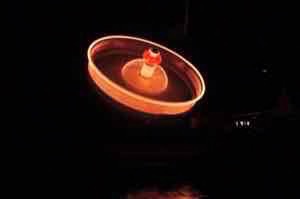 This large circular ride has been a Worlds of Fun favorite since its addition in 1977. Up to 42 riders board the ride's large circular platform and stand in individual pods that line the perimeter. As the ride begins to spin, it is lifted into the air up to an approximately 45-degree angle, while riders are left stuck to the wall by centrifugal force. Bamboozler was manufactured by Hrubetz & Co out of Salem, Oregon and it is what is referred to as a Super Round-up, first manufactured by the company in 1952. Bamboozler was first introduced at Worlds of Fun in 1977, added to the Orient section of the park as Singapore Sling. With the addition of the Orient Express (of which Sling's entrance was partially reused for) in 1980, Sling was moved to Americana and became known as Whirligig, at which time it was located in the same location shared by Omegatron and Thunderhawk. In 1986, with the addition of Omegatron, Bamboozler was moved back to the Orient and located on the pad previously occupied by the Oriental Octopus, and was renamed for the last time to Bamboozler. To this day, Bamboozler continues to use the same pad and queue house that was first used by the Oriental Octopus. Guests must be at least 46" to ride Bamboozler.