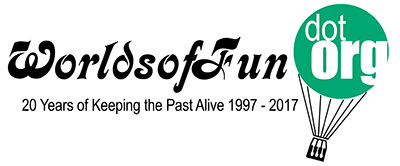 May 12, 2019


Updated the Tour of the Park for the 2019 Season.




March 10, 2019


Added 1981, 1982, 1983 and 1992 Great Times Magazines!




February 6, 2019


Added individual pages for all 1979 attractions! Including: Le Carousel, Zulu, Wing Ding and Beetle Bumps.




January 4, 2019


Added the 1993, 1995 and 1997 Souvenir Maps!




November 10, 2018


Added individual pages for all 1978 attractions! Including: Aerodrome, Barnstormer, Flying Circus Theater, Humpty's Haven and Tot's Yachts.




August 23, 2018


Added 1979 Great Times and Photobook!




June 8, 2018


Added a Red Baron, Sam Panda, Grrrtrude Gorilla, Dan'l Coon and Screamroller specific pages. Updated Floral Clock page.




April 29, 2018


Added Forum/Heart of America Theater updated with its own specific page including a Forum Concert Series (incomplete) schedule.




October 13, 2017


Added S.S. Henrietta/Americana Main Gate specific page.




October 7, 2017


Specific pages for the 1973 attractions have been added, 9th Street Incline, Big Game Hunt, Cotton Blossom Der Fender Bender/Autobahn, Finnish Fling, Fins & Flippers, Floral Clock, Flying Dutchman, Funicular, Gypsy Wagon, Kopter, Le Taxi Tour, Moulin Rouge, Oriental Octopus, Safari, Schussboomer, Scrambler, Sky Hi, Tivoli, Victrix, Viking Voyager, Worlds of Fun Railroad & Zambezi Zinger. Defunct Attractions are also linked directly from the defunct attractions page, current attractions will be linked soon from the 2017 Current Attractions page.




December 1, 2016


Update! We have just added the current (2017) Tour of the Park, see the link above. Please be aware due to main gate refurbishment/addition there are attractions names and locations that cannot be added until April 2017, at that point the Tour of the Park will be updated to reflect the new gate area. Be sure to join us on Facebook at: https://www.facebook.com/Worlds-of-Fun-dot-org-88851807796/ for discussion and updates!




November 5, 2016


As of the week of Oct 17th it has been reported to us that General Manager and Vice President Frank Wilburn, is no longer with Cedar Fair, Worlds of Fun's parent company. We have contacted Worlds of Fun for an official comment but have as of this writing received no reply back. However, this news has been confirmed from a variety of reliable sources. We have been advised that Frank's replacement, from Kings Island, is already at the park and has begun taking on the responsibilities of the position.

It also has been reported by various sources that Frank's leaving Worlds of Fun will not be the only shake up in Worlds of Fun staff during this off-season.

Frank Wilburn became Worlds of Fun's General Manager in October 2006 and held the position for 10 years; he was unique in that he began his employment at Worlds of Fun in 1982 as a front line food service ambassador the first General Manager of the park ever to have started as a front line employee at the same park. Though it is uncertain what specific situations lead to leaving his position, it can be said that he truly attempted to move the park in a positive forward direction but one that never lost sight of its past as well. Frank Wilburn will be missed from Worlds of Fun.




Worlds of Fun 2017 Announcement August 18th!


On August 18th Worlds of Fun made its official announcement for 2017 capital improvements including four large park expansions. The park will be adding two new rides for the 2017 season including Falcon's Flight a rare Huss Condor and Mustang Rider, a Troika ride also manufactured by Huss rides. Worlds of Fun also announced a long-time needed improvement to the main park gate that will include both retro-fit of new structures as well as addition of new structures and group picnic facilities. The last new addition for 2017 includes the addition of six weekends to the operating schedule with Winterfest, which will run from Thanksgiving until the end of the 2017 calendar year.



Welcome to Worlds of Fun Dot Org. Due to recent technical issues related to the unexpected loss of our server we are currently in the process of rebuilding the website. Since its inception in 1997, Worlds of Fun dot org has not only become one of the oldest amusement industry websites but also its largest dedicated to the preservation of Worlds of Fun's short, but memorable history.
We have always been interested in feedback from our visitors and at this juncture are especially interested in feedback. Please visit us on Facebook
Check back soon as we will strive to have frequent updates!